What's special about this general election?
If you don't know that a General Election is scheduled to be held in the United Kingdom on Thursday, 12 December 2019, then you've probably been in a retreat, high up in the Himalayas, in which case: welcome home❣️❣️❣️ 🎉🥳🍾
Like all GEs, there will be issues for LGBT+ people, and for Equality groups in general, but especially this year, because a Tory victory could prove the 'thin end of the wedge' that will dislodge Equality and Diversity rights, and protections out of UK law, if Britain leaves the EU as a result.

This is not meant as an anti-Brexit, or pro-Remain statement, but simply points to a danger of which we must all be aware: that Brexit will provide an excuse for the revision of all UK legislation, in a 'fresh start' advocated at the recent Conservative Party Conference.

Such a fresh start could present an opportunity for ultra-conserative Tory MPs like Anne Widdicombe, Jacob Rees-Mogg, Kwasi Kwarteng, Priti Patel, Dominic Raab, Chris Skidmore and Elizabeth Truss, to push for the weakening of LGBT+ equality rights and protections, under the guise of 'light-touch regulations, designed to make British business more competitive'.

The argument will inevitably be that Equality and diversity regulations impose a burden on business that is no longer necessary, as LGBT+ people now face little or no discrimination in the workplace, and many companies have excellent equalities policies .
But those assertions would conceal a much darker truth!

Homophobic and transphobic Hate crime has risen sharply under the Tories.
In Spetember 2019 the BBC News website reported:
Fewer people are being prosecuted for homophobic hate crimes despite rising numbers of potential victims coming forward, figures suggest.

Recorded reports of homophobic abuse in the UK increased from 5,807 in 2014-15, to 13,530 in 2018-19.

But during the same period, the number of prosecutions fell from 1,157 to 1,058 – from 20% of all reports to 8%.

The National Police Chiefs' Council said those cases often involved a lack of witnesses and evidence.

BBC News website, 12 September 2019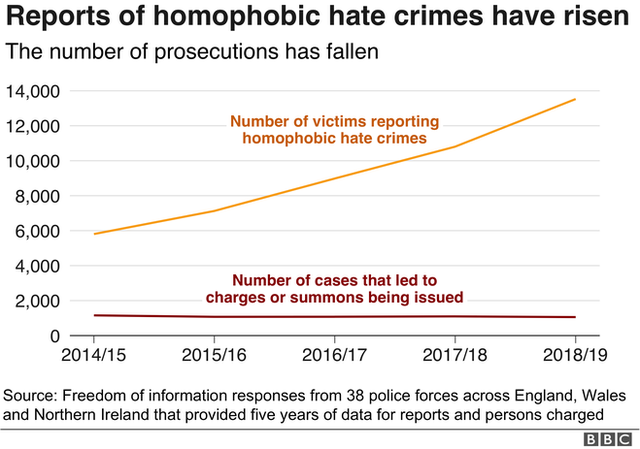 Leaving the EU is the single, most momentous change in recent British history, that will affect much of the current legislation in the UK, that was based on EU Directives.
Watch this – far too rushed – but informative BBC News video:
General election 2019: What to look out for on LGBT issues
Are LGBT+ rights in the UK at risk?
From Wikipedia :
"The Equality Act 2010[1] is an Act of Parliament of the United Kingdom with the primary purpose of consolidating, updating and supplementing the numerous prior Acts and Regulations, that formed the basis of anti-discrimination law in Great Britain. These consisted, primarily, the Equal Pay Act 1970, the Sex Discrimination Act 1975, the Race Relations Act 1976, the Disability Discrimination Act 1995 and three major statutory instruments protecting discrimination in employment on grounds of religion or belief, sexual orientation and age.[2]

The act has broadly the same goals as the four major EU Equal Treatment Directives, whose provisions it mirrors and implements[3]. However, the act also offers protection beyond the EU directives, protecting against discrimination based on a person's nationality and citizenship[4][5] and also extending individuals' rights in areas of life beyond the workplace in religion or belief, disability, age, sex, sexual orientation and gender reassignment. [6][7]

The Act protects people against discrimination, harassment or victimisation in employment, and as users of private and public services based on nine protected characteristics: age, disability, gender reassignment, marriage and civil partnership, pregnancy and maternity, race, religion or belief, sex, and sexual orientation. The Act includes provisions for single-sex services where the restrictions are "a proportionate means of achieving a legitimate aim".[8] In the case of disability, employers and service providers are under a duty to make reasonable adjustments to their workplaces to overcome barriers experienced by disabled people. In this regard, the Equality Act 2010 did not change the law. Under s.217, with limited exceptions the Act does not apply to Northern Ireland.[9] "

Wikipedia article: Equality Act 2010
Following Brexit the UK will have to re-write a lot of Parliamentary Acts that did rest on EU legsilation, and this could give an ultra-conservative Government the opportunity to weaken LGBT+ and other Equality and Diversity provisions, rihgts and protections.
In an article on Pink News, Gina Miller, the woman who twice won court cases against Theresa May's and Boris Johnson's administrations on Brexit, said:
What I fear now is that there is a systematic attempt to turn our system against itself, to not just throw away all the learning and experience that brought it into being, but, as Sajid Javid said at the Tory Party Conference this week, to start afresh.

He stated that leaving the EU will give the UK the opportunity to get rid of "inefficient EU programmes" and replace them with "genuinely better homegrown alternatives". In other words, LGBT+ rights and protections, equality rights we take for granted, founded on principles contained in the EU Charter of Fundamental Rights and/or have come about as a consequence of the Charter or other EU law, may well be discarded post Brexit.